Special thanks to my co-authors MAY and Leoria. Credit to Banana Culture for all images used.
The Chinese Overwatch scene might only now have caught your attention since China topped the Overwatch World Cup qualification table, but there is a large competitive scene home to an army of professional players. Many Chinese tournaments and teams are most likely unheard of among foreigners, but here is a chance for everyone to take sneak a peek at the most recent developments in the CNOW scene before the next stage of China's biggest tournament gets underway.
Overwatch Premier Series 2017 Spring commences today, 29th April at 05:00 EDT / 11:00 CEST / 17:00 CST. Following on from the one-month Spring Preseason tournament, top ten teams have advanced to this regular season. From 29th April to 11th June, these teams will battle each other in grueling best-of-three round robin group. The eight teams with highest accumulated points will advance to the Spring Playoffs, whilst the remaining two will be eliminated and will seed in the following Summer Pre-season tournament.
After completing both the Spring and Summer series, OWPS will finally determine the top four Chinese teams through the Annual Finals, who will then attend APAC in November competing with invited teams from South Korea, North America, Europe, and Pacific region.
The slick production value of Banana Culture returns to your screens today, with the group stage being broadcast every Saturday and Sunday (and Friday in the final week) for the next seven weeks. Check out the official tournament site at chinaowps.cn and of course our event page for the complete schedule.
The Shanghai shuffle
The Spring Preseason has jokingly earned the title of the "The Disband Cup" after Snake eSports, QG.Zen and WE.White all disbanded after failing to qualify for the Spring main event. Alongside tremendous roster changes in other qualified teams, it has been a turbulent time for Chinese Overwatch where, unlike most western teams, rosters of eight or more players are the norm.
Tang "Tian" Wei (Tank)
Qiu "Zod" Zengzhi (Tank)
Li "Samsara" Xiaoping (DPS)
Liu "Luca" Junjie (Flex)
Yang "BBcat" Jiawei (Flex)
Li "Billyo" Xinyu (Support)
Xun "Mercy (Lucky)" Liang (Support)
Ning "Seraphim" Longyu (Support)
Sponsored by a famous Chinese novel writer, 1246 carries with them the pressure of fame. They are the most predictable team with regards to their team composition for different types of map. On payload maps they would pull out the death ball comp but prefer using dive comps (sometimes with Pharah) for the rest. They are not especially tied to certain heroes, most of the time favoring the meta picks.
Samsara stands out as the star of the team and is well-known for his hitscan prowess and aggressive play style. 1246 have kept their roster unchanged since the preseason tournament.
Luo "Ninja" Wenjie (Tank)
Lin "east" Ziyu (Tank)
Kuang "KevinKing" Hanwen (DPS)
Chen "Archer" Xiao (DPS)
Wang "Dec12th" Wei (Flex)
Dai "AndyWind" Jinchi (Support)
Zhang "YongBan" Kun (Support)
Shi "Strawberry" Yuquan (Support)
Black Ananas has been considered as Tier 1 team in China since APAC, but has yet to prove themselves with championship win. In the Spring Preseason, they pounded their way through Group A to become the first team to advance to the Spring main event.
Since then they have dropped CLang (Flex) and XingYang (Flex), and transferred Archer (DPS) and Strawberry (Support) from their sister team, Black Ananas Wind to their roster.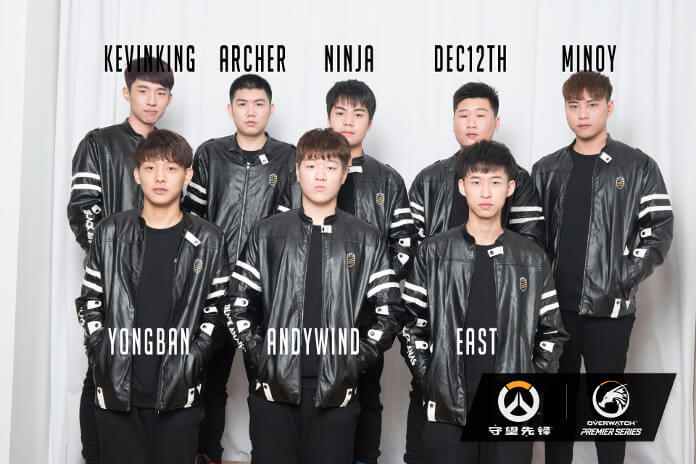 Wang "Rookie" Jundong (Tank)
Deng "over" Sifan (Tank)
Wan "Akun" Kun (DPS)
Zheng "mEm0ry" Gonghao (Flex)
Yang "AmuM2m" Qinglin (Support)
Chen "S" Jingyi (Support)
Xia "Snow" Yanbing (Support)
Lin "Lambert" He (Support)
"The kings of the death ball comp" in China, there is no doubt that Celestial's front line players are stealing the spotlight. over is known as the most aggressive DPS Reinhardt in China, while Rookie also demonstrated a remarkable Zarya capable of dealing with flankers and dive comps in impressive fashion.
Their former DPS, Jeeeeeeee, left for OMG whilst CL brought in Akun from VICI Gaming as a replacement.
Jing "Roshan" Wenhao (Tank)
Yang "YOUNAI" Junyi (Tank)
Tang "Muggle" Shijun (DPS)
Tian "57" Jian (Flex)
Pang "Spted" Jiawei (Flex)
Wu "Max" Yanbo (Flex)
Liu "CENTURY" Shiji (Support)
Xu "b612" Peixuan (Support)
FTD is the dark horse for OWPS Spring. They didn't lose a match in Group D, beating powerhouses like VICI Gaming and OMG. Roshan, their main tank, has a strong showing on both Reinhardt and Winston when the team was using different comps. When asked about which players they will pick to form their dream team, most of the analysts picked Roshan for the tank role. FTD did not make any roster change for the Spring main event.
Li "Yaoyao" Haibo (Tank)
Huang "MOMDA" Zi (Tank)
Jiang "Jixx" Zong (Tank)
Yu "XiaoJue" Shiyao (DPS)
Gao "LaoX" Feilin (DPS)
Li "JamLee" Yingjie (Flex)
Chen "5King" Zhaoyu (Support)
Guan "BUG" Li (Support)
iG.Ice is known as a "streamer team", but despite being the most popular team in China and having a huge fan base, they have been struggling in tournaments. Falling as third place in group B, they battled for 10 hours straight in the pre-season wildcard bracket to claim the final qualification spot. Coming in at 4 hours long, their opening match versus Newbee was the longest best-of-three match in CNOW history by far, with two tied maps and technical issues.
JamLee was the caption of Chinese 2016 Overwatch World Cup team, and XiaoJue (DPS) has been hailed as a profoundly talented flex DPS player. During the offseason Youyou (Support) left the team and they picked up Jixx on tank.
Xu "DHsea" Xiao (Tank)
Zhao "zz1" Haixin (Tank)
Sun "Sun" Zhenhua (DPS)
Tong "TongZ" Xiaohang (DPS)
Cheng "FURY" Chao (DPS)
Li "Zi2Ai" Haojie (Flex)
Zhang "mAps" Chen (Flex)
Ding "ByeK" Yiwen (Support)
Jiang "GnTHM" Taiyu (Support)
JHG qualified by beating iG.Ice in groups, securing the second promotion spot in Group B. Although Sun (DPS) wasn't on the starting roster, his Pharah worked great magic when needed by the team. For the Spring main event, JHG have brought in the former NGA.Titan DPS duo - mAps (Flex) and Fury (DPS), which would be a strong addition to the team.
Yan "DaDa" Pengfei (Tank)
Zhu "LuSa" Yikai Tank)
Zhang "Sinon" Minhao (Tank)
Li "beike" Longhui (DPS)
Xing "117" Gaogang (Flex)
He "TaoMei" Taotao (Flex)
Ye "177" Qianqian (Support)
Tian "XiaoBai" Yannan (Support)
Li "LittleCat" Yi (Support)
"Pharmercy Forever" is the impression most people have of Lucky Future - beike's Pharah and 177's Mercy have been ruling the skies. With professional female players still a rarity in Overwatch, having 177 on the roster has also brought LF extra attention and new fans.
Linda (Flex) stepped down from the roster and became their coach, while former NGA.Titan captain LittleCat joined the roster on support.
Gao "wuliD" Hang (Tank)
Wu "mg" Dongjian (Tank)
Xu "guxue" Qiulin (Tank)
Fang "uNdeAD" Chao (DPS)
Ou "Eileen" Yiliang (Flex)
Zheng "Shy" Yangjie (Flex)
Chen "Weiyuan" Lizhen (Support)
Cheng "Gawain" Yage (Support)
The most noteworthy plays of the Spring Preseason came from LGD with a spectacular full hold on Hollywood Point A with Orisa, Reinhardt, D. Va, Bastion, Mercy and Zenyatta. They won this map with ease to take down GodLike 2-0 in Group C Winners' Final. In general, they are also known for using super dive comp, sometimes with Sombra in the place of a second healer.
For the Spring main event Door (Support) is out while wuliD, who formerly played for OMG, has joined.
Zhang "Neo" Xinkun (Tank)
Wang "Suannai" Weiyu (Tank)
Jing "Careless" Linkang (Tank)
Bian "Time" Yutao (Tank)
Lin "NubizzZ" Junfeng (DPS)
Wang "Jiaozhu" Pengcheng (DPS)
Guo "JeeeeeeeeE" Zhijie (Flex)
Cao "GAdog" Junjie (Support)
Jiang "1shen" Qingwei (Support)
There have been a raft of changes for OMG since we last saw them. Jiaozhu (DPS) and Suannai (DPS) retired, whilst former CL DPS Jeeeeeeeee joins alongside Careless (Tank) and former Newbee.Y player Time.
In terms of the major threats, NubizzZ (Flex) remains a godly Genji and Roadhog, while Jeeeeeeee brings top tier hitscan star power. They are traditionally known for standard comps, but we shouldn't be surprised if these new additions to the team also bring out new strats.
Wei "jiqiren" Yansong (Tank)
He "YjjPP" Haojia (Tank)
Xu "fengyan" Zhengfeng (DPS)
Huang "leave" Xin (Flex)
Ma "Lateyoung" Tianbin (Flex)
He "zhufanjun" Junjian (Support)
Yan "creed" Xiao (Support)
Zhou "MOZZDaDa" Xing'er (Support)
MY is probably the most promising team in OWPS. YjjPP, the talented off-tank player, made his name in last year's Blizzcon. leave (Flex), their star Genji player, is recognized as the one of the top three DPS in China. They are tipped by many to secure a spot in APAC.
Ali (Tank) and Fear (DPS) are out of their roster, while Lateyoung (Flex) and MOZZDaDa (Support) joined the team. MOZZDaDa being the second female player in OWPS will certainly draw even more attention to an already stellar roster.