The Overwatch PIT Championship had a little bit of something for everyone. For European fans who wanted a major tournament featuring their top teams, it had that. For fans frustrated by the pacing of APEX, there were multiple games played every day. For fans who wanted tense back-and-forth action, the EU lower bracket final between eUnited and Dignitas had that. For fans who wanted to see favorites dominate, the NA bracket did not disappoint. For those who wanted to see chaos, upsets, and unpredictability; there was plenty of that.
Long before Movistar Riders and Rogue won in their respective brackets, the tournament was full of story lines. It seemed early that the unpredictability would all be on the NA side rather than the EU side, though that changed as the tournament went on.
Congratulations to @GoingRogueGG as they are your North American Overwatch Pit Champions! They beat @TeamLiquid with 3-1 scoreline in GF. pic.twitter.com/ZfSKg5tXub

— OverwatchPit (@OverwatchPit) April 15, 2017
While Selfless stormed through the open qualifiers as expected, their opponents in the grand finals weren't expected. You guys get paid? beat Fnatic in a best-of-one series to make it, much to the joy of those who remembered Hafficool's infamous tweet. People quickly fell in love with YGGP upon first seeing them play on stream in a major tournament, as former Awesomenauts pro and former tank of YGGP HarryButcher stole the hearts of many as he made for good viewing with every play, both good and bad.
HarryButcher would no longer be on the roster by the time group stages rolled around, but that would be far from the biggest storyline of the tournament. Whereas Team LDLC was the only invited team to drop out on the European side, three invited teams dropped out from the North American bracket before the start of the tournament. Counter Logic Gaming, Gale Force eSports, and Tempo Storm, all from the open qualifier, took the place of the teams that dropped out, and rather than beginning North American play with Selfless and Immortals playing each other, Selfless would kick off their tournament run against Gale Force eSports instead.
The NA side of the tournament began to show some normalcy in the group stages. CompLexity continued their struggles leftover from the end of Carbon, this time trialing eqo. Along with compLexity, YGGP, Tempo Storm, and Gale Force eSports would also be eliminated.
The EU group stages began with an upset, the newly formed Laser Kittenz upset Ninjas in Pyjamas, and then settled down with more expected results. GamersOrigin, ex-ROX, Hammer Esports, and EX-ALTERNATE aTTax were eliminated after group play.
The tournament then spiraled into chaos when the playoffs began. Even in the North American bracket, which featured a Selfless and Rogue Upper Bracket Final, the tournament enabled the surprising emergence of Team Liquid, who have played at a whole new level since the addition of shadder2k. In fact, had their first match against Selfless been played only a few days later on the newest patch, they would have 2'0'd one of the tournament favorites. Instead, they were sent to the lower bracket, where they had their chance for a rematch against Selfless. They took advantage of their opportunity, forced Selfless to switch off of their comfort picks, and eventually won the series. Unfortunately for Liquid, Rogue proved to be too strong to overcome, and much like RunAway their fantastic bracket busting run came to an end just short of a title.
While the North American storylines were great, the best ones were in Europe. No big surprises happened in the first round of matches, and in fact there was some hype taken away from one of the matches as former Misfits player Zaprey had already been sent back to the bench by the time Laser Kittenz finally had an opportunity to play the team that he had declared too scared to scrim them.
In the very next round, things changed. Ninjas in Pyjamas were sent to the losers' bracket by Movistar Riders. The very next day, the curse of the Sideshow cast finally hit PIT and the match between Misfits and eUnited was postponed to the following day after players had connection issues on Battle.net. eUnited would send Misfits to the lower bracket, but by the end of the day more issues caused match postponements. This time Sideshow could only be blamed so much, as the Blizzard overlords released their new patch in the middle of tournament play.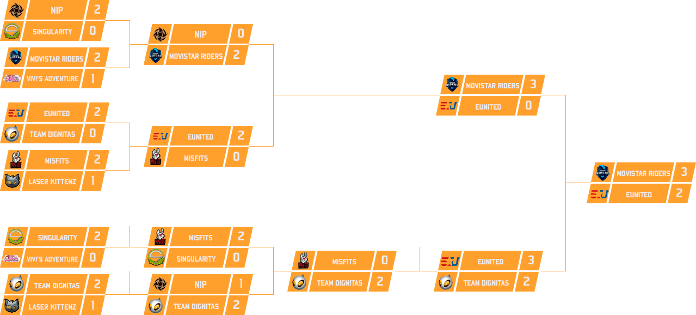 As a result of matches being postponed, Dignitas would play three matches the next day. They showed no signs of fatigue, as they put on what is arguably their best performance since Creation eSports became Dignitas before gamescom last summer. The Lucio patch seemed to sit well with them, and in the same day eliminated both NiP and Misfits from the tournament. Their lower bracket run would end to the same team that sent them to the lower bracket in the first place, except this time in a much closer series. While they were sent to losers' by eUnited in a 2-0, they were a stage away from completing the lower bracket run before falling in a tight series.
Movistar Riders might have made for the best story of the whole tournament. After finishing 2nd in their group to Misfits, they were second thoughts compared to teams like their group winner, NiP, and eUnited. That would change, however, after stomping both NiP and eUnited to secure their spots in the Grand Final. The Grand Final would end up being an exciting back and forth match, with Movistar holding on in overtime.
The dominance of Rogue was largely expected, and so it's easy to lose focus of their impressive run in favor of Liquid's surprise run. Rogue didn't lose a single map in the tournament until their upper bracket final against Selfless. Even in the Grand Final, during which Liquid continued the phenomenal play that had gotten them that far, they only lost a single map. Rogue plays in the Overwatch Monthly Melee immediately following the PIT Championship and will be looking to continue their undefeated 2017 there.
Will Movistar Riders become a main stay at the top of Europe or was this just a Cinderella run that can't be replicated? Will Rogue ever lose to another North American team? Only time will be able to answer these questions.
Final Standings EU
Movistar Riders ($7,125)
eUnited ($3,225)
Team Dignitas ($2,250)
Misfits ($1,200)
Final Standings NA
Rogue ($7,125)
Team Liquid ($3,225)
Selfless Gaming ($2,250)
Counter Logic Gaming ($1,200)