The task of ranking the top teams across worldwide competition is a tough and subjective one, especially in a relatively young esport, but is imperative in understanding the flow of the scene. Storylines crafted by wins and losses can often get lost in a sea of results, and a history of rankings helps map out teams' journeys through peaks and troughs.
This series of our rankings uses data from early February up to now, running from early in APEX Season 2 groups to early in APEX Season 3 groups. This time period not only allows for a solid assessment of the Koreans but also includes a large number of online tournaments from the West.
The Korean teams have changed up their styles since the playoffs of APEX Season 2 and a number of teams have also made roster changes - most for the better. Europe has shown its strength with new top teams showing themselves in the dive-heavy meta there, with the whole region working towards TaKeOver 2. Rogue continued to crush North America, but new faces appeared in the Rivalcade Rumble.
The format of our rankings looks back at the evidence to analyse tournament finishes, teams beaten, and the context of the matches. There is a large emphasis on recent games and teams beaten, while offline matches and larger tournaments carry more weight - though in regions where those opportunities don't exist, reasonable comparisons must be made.
This is not a ranking of the best teams over the last two months, nor is it a list of those on a current hot streak. The over.gg World Rankings aims to use the evidence from the last two months to determine who can reliably be called the current best teams in the world.
This is also the first time that the algorithmic over.gg Rankings page has been live at the same time as our editorial! To see how they compare, as well as to see each region's top teams broken down, visit the rankings page here. Contrasting the two, it's clear that the writers behind over.gg value the infrequent APEX results more than the ELO does, though many of the same teams are present.
1st: Lunatic-Hai [-]
EscA, Miro, Ryujehong, Tobi, Zunba, WhoRU, Gido (not pictured). Image credit: OGN
1-0 in APEX Season 3
1st APEX Season 2
Did not qualify Nexus Cup 2017 Spring
Overall record: 7W - 2L (Map record: 25W - 13L)
As with all the Korean teams, Lunatic-Hai have few games played but are propelled to the top by virtue of their demonstrated skill and the calibre of their opponents. To be dethroned from the top of the rankings, Lunatic-Hai would have had to begin APEX Season 3 with an upset loss at the same time as LW Blue or RunAway made strong showings for themselves. As it happens, Lunatic-Hai beat out a vastly improved Kongdoo Panthera in the group of death while their closest rivals from last season RunAway flopped out of the gates.
It is still possible that the horrific seeding of APEX, which somehow always produces a stacked group and three mediocre ones, could lead to the world's best team not making playoffs. It is far more likely, however, that Lunatic-Hai will knock out the best Western team before they can even begin to get rolling and will continue to be a favourite in the tournament.
A patch shift that outrageously shifts the established meta in playoffs could upset the Korean kings, as could an explosive performance by other top Korean teams, but Lunatic-Hai look like they have a serious chance at establishing their era.
2nd: Luxury Watch Blue [+1]
Saebyeolbe, Luna, janus, MekO, Pine, Gambler, Fl0w3r, Sylph. Image credit: OGN
1-0 in APEX Season 3
3rd APEX Season 2
Overall record: 5W - 3L (Map record: 20W - 14L)
LW Blue overtake RunAway this month. There were minor differences between the top three in APEX Season 2; RunAway's early slump against Afreeca Freecs Blue, where the team looked uncoordinated and sloppy with their new addition and in the new meta, has seen them fall with LW Blue picking up the slack.
LW Blue have brought in two new faces this season: Sylph and Pine. This accurately seems to cover the potential weaknesses of APEX Season 2, where both flex support Luna and flex DPS Fl0w3r were not hitting their previous high form. For Fl0w3r in particular, this relieves pressure from his wrist injury and reunites him with perennial partner-in-crime Pine.
Both players have a similar playstyle, hero pool, and explosive capabilities, though Pine tends to lean towards the hitscan DPS more strongly than Fl0w3r's Genji. Combining these two prodigies with Saebyeolbe's star talent and the strong tank base gives LW Blue an excellent chance of success this season after narrowly missing out on a finals appearance in APEX Season 2.
There is no risk of LW Blue being eliminated in groups; the disparity of the seeding has left LW Blue with a desperately easy time in Group C. Their first game against CONBOX in APEX Season 3 saw them navigate the potential minefield of Sombra-centric compositions, proving they can adapt on the fly. CONBOX are likely to escape their group and could throw a wrench in the plans of another quarterfinals team, but LW Blue have the potential for glory.
3rd: RunAway [-1]
Bumper, Haksal, Runner, KoX, Stitch, Kaiser, Mirage, Kalios. Image credit: OGN
0-1 in APEX Season 3
2nd APEX Season 2
7th/8th Overwatch Monthly Melee March
Overall record: 5W - 6L (19W - 21L)
RunAway grew from mediocrity to excellence after their roster changes in APEX Season 2, with the team centred around support Runner's exuberant shotcalling and Kaiser's Reinhardt play. The team again made swaps after finishing second place, bringing in flex player Mirage and tank Kalios for APEX Season 3.
They fielded Mirage over Kaiser for their opening game against AF.Blue but looked to have lost all shred of their former style and punch. Weirdly, they styled the entire team around their new addition, flexing him between Winston and D.Va, then over to Pharah and Soldier: 76, then even to Ana on Numbani. Mirage failed to deliver a star performance that would warrant such crafted compositions and the flexibility gave them nothing extra.
RunAway skilled their way through APEX Season 2, running on magical individual performances and clutch team plays. Runner had a sobering opening to APEX Season 3, saying he wished people thought of RunAway the same way as in last season, as a team with upset potential but lacking consistency. Whatever he would like people to think, the roster has proven its ability to compete with the best.
Though RunAway's players were apparently ill with the flu for the opening game, the roster they fielded underperformed massively as a result of poor compositions, poor individual performance, and this potentially belies a slow grasp of the meta shifts between seasons. RunAway are in a group with three teams who could all upset them on any given day; AF.Blue already have and now RunAway must fight from behind.
4th: Kongdoo Panthera [+1]
Luffy, Birdring, Rascal, Wakawaka, Fissure, Void. Image credit: OGN
1-1 in APEX Season 3
5th APEX Season 2
Overall record: 4W - 3L (Map record: 15W - 12L)
If one was forming these rankings on pure basis of current form, Kongdoo Panthera would find themselves even higher than fourth and in close company with both Lunatic-Hai and Rogue, just like their group in APEX. Kongdoo Panthera have also played both teams already, narrowly losing out against Lunatic-Hai and then beating Rogue by the slimmest of margins.
Kongdoo Panthera have made huge improvements to their roster this season. The team had a formidable run through the groups of APEX Season 2 but couldn't adapt their triple tank compositions to lock out LW Blue twice and were then picked apart by Meta Athena's tactical approach.
In both the matches they lost last season, Panthera were on the back foot and had to react. Now, the team has combined Rascal with birdring and added Void to the roster, forming one of the deadliest DPS duos in APEX. They're bringing the fight to their opponents now, but Panthera still have the ability to shift back into that reactive gear whenever required.
Panthera's performance against Lunatic-Hai and Rogue was consistently excellent and dragged them up from their APEX Season 2 results.
5th: Rogue [+1]
NiCO, KnOxXx, winz, aKm, uNKOE, SoOn. Image credit: OGN
1-1 in APEX Season 3
1st Rivalcade Rumble
1st Overwatch Monthly Melee April
1st PIT Championship NA
1st Overwatch Monthly Melee March
1st Overwatch Monthly Melee February
Overall record: 35W - 1L (Map record: 78W - 17L)
Rogue climb one place in our rankings this month. The team continued their utter dominance over the North American scene with wins over Selfless and EnVyUs; they have now proven that they are competitive with the best teams in Korea.
There is no doubt that Rogue are among the best teams in the world. Unfortunately, they have been seeded into APEX groups with two even better teams and now must beat Lunatic-Hai to have any chance at making playoffs. Their performance against Kongdoo Panthera could have seen them win 3-0 without two crucial fights being clutched by Panthera, but the Frenchmen fell despite performing admirably.
The largest difference in Rogue's performance online and in Korea has been NiCO's shift to D.Va. His Genji has been neutralised in a region famous for its sword-wielding superstars, and the team is finding far more value with him able to peel. Relying on aKm and SoOn hasn't let Rogue down so far but it does limit their style quite considerably; their execution must be perfect against Lunatic-Hai to overcome the giants of dive, otherwise another Western team will have been robbed of a deep APEX run.
6th: Meta Athena [-2]
NUS, Sayaplayer, ChangSik, Kris, Libero, Hoon, Alpha. Image credit: OGN
1-0 in APEX Season 3
4th/8th Overwatch Monthly Melee April
4th APEX Season 2
Did not qualify Nexus Cup 2017 Spring
Overall record: 6W - 6L (Map record: 21W - 18L)
Meta Athena slip two places this month due to their lacklustre end in APEX Season 2, which saw them fall to strong dive teams without much resistance, and the absence of visible improvement or strong performances so far in APEX Season 3. They have, in fact, simply been overtaken by Panthera and Rogue.
Meta Athena have a relatively easy group, with only EnVyUs as another elite team in the mix. It's a rematch of APEX Season 2 for both elite teams and BK Stars, strangely, with the same two teams expected to advance.
Meta Athena have started with a win over BK Stars; their match in two days against EnVyUs will be a far better determiner of both teams' ability.
7th: Afreeca Freecs Blue [NEW]
Lucid, iDK, DongHyuN, Mano, ArHaN, recry. Image credit: OGN
2-0 in APEX Season 3
7th/8th APEX Season 2
Overall record: 3W - 3L (Map record: 14W - 10L)
Afreeca Freecs Blue snuck into playoffs last season but only now do they seem to be back to their form of old. The team has experimented with roster changes in their tank and support lines since APEX Season 1; the addition of Lucid on flex support and the shift of Mano to tank has worked wonders for them.
With a stronger support structure for ArHaN and recry and great synergy between their Winston and Ana, AF.Blue have appeared rejuvenated in APEX Season 3. The team has already taken down RunAway and X6, both without dropping a map, both while looking slick in their dive comps.
With wins over Cloud9 and RunAway, a close result against LW Blue, and their recent form in the last two games, Afreeca Freecs Blue deserve to return to the top ten.
8th: EnVyUs [+1]
cocco, chipshajen, Lui & EFFECT (INTERNETHULK pictured), Taimou, HarryHook, Mickie. Image credit: OGN
2nd Rivalcade Rumble
7th/8th APEX Season 2
Overall record: 7W - 5L (Map record: 19W - 17L)
EnVyUs rise one place in the rankings this month after proving they are still around the top of the North American scene. A second place finish in the Rivalcade Rumble saw them defeat Immortals and Selfless, losing twice to Rogue. Other than the first defeat against Rogue, each game was excruciatingly close, but EnVyUs showed that they can still hang with the best in the West despite looking lost in APEX Season 2.
EnVyUs have not yet had an opportunity to show their new level with Lui and EFFECT at APEX. With spit, polish, and a lot of practice, this roster could be a powerhouse. HarryHook is back on an improved Lucio, Widowmaker is back in vogue, and their two new additions open up strategies to nV that were always previously shut off.
We will get our first taste of EnVyUs in their upcoming match against Meta Athena, and they have the added cushion of an easy group to let them prepare for playoffs.
9th: Selfless [+1]
Michael3D, Sinatraa, dhaK, LegitRC (coach), emongg, Kresnik, (Manager), dafran. Image credit: Kresnik
3rd Rivalcade Rumble
2nd Overwatch Monthly Melee April
3rd PIT Championship
2nd Overwatch Monthly Melee March
1st PIT Championship NA Qualifier
1st Good Gaming #8
1st Rivalcade Weekly #2
1st Academy Gaming #40
1st Good Gaming #7
1st Rivalcade Weekly #1
1st Enter The Anrea
1st Academy Gaming #39
3rd/4th Academy Gaming #38
3rd COW Open Weekly #10
3rd/4th Academy Gaming #37
Overall record: 48W - 5L (Map record: 120W - 38L)
Selfless move up a place this month as well but are existing in the top ten purely based on their incredibly competitive performances against Rogue and EnVyUs. Since witnessing that first clash in the Overwatch Monthly Melee March, Selfless have driven Rogue to the edge many times but always failed to deliver the win.
In the recent Rivalcade Rumble, they beat Immortals once and LG Evil twice but were beaten by Cloud9 and eliminated by EnVyUs in third. Selfless have remained remarkably consistent and their recent losses speak more to the ability of other teams to prepare against Selfless and improve themselves.
Nevertheless, with Rogue and EnVyUs now absent from the North American scene for months, Selfless have no direct way of measuring themselves up to a greater power. Holding onto their spot in the top ten will be difficult without elite competition, no matter how promising many of the North American teams appear. Selfless need to crush their domestic opposition and hope the Koreans look weaker throughout APEX to remain near the top.
10th: Movistar Riders [NEW]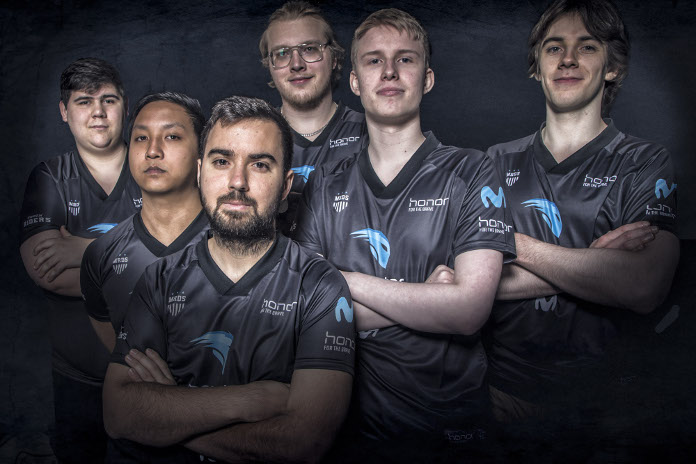 Logix, Kolsti, neptuNo, CWoosH, Finnsi, Dante. Image credit: Movistar Riders.
1st TaKeOver 2 Qualifier #2
1-0 in GAME Stadium
3rd/4th TaKeOver 2 Qualifier #1
1st HND Invitational
1st PIT Championship EU
2nd Go4Overwatch EU Monthly Final February
1st Go4Overwatch EU Weekly #41
5th/8th StriveWire Monthly Brawl March
1st Rivalcade Weekly EU #1
17th/32nd Enter The Arena
1st Go4Overwatch EU #38
1st GAME Stadium Qualifier #2
Overall record: 41W - 5L (Map record: 87W - 19L)
It's almost impossible to give Movistar Riders, or indeed any of the teams currently in Europe, a fair ranking worldwide. The region has been isolated for months without a channel to the outside, unable to even post results against Rogue before they moved to the US.
It can be said, however, that Movistar Riders are currently the best team in Europe. The diversely European team took both the PIT Championship EU and the HND Invitational by storm, losing just a single game in both tournaments to Misfits. The scalps on their walls are numerous in contrast, with wins over every other strong European team. That includes ex-Cyclone, their closest rivals, who they beat 3-1 to win HND after losing to them 0-3 over a month beforehand.
Movistar are experts at triple DPS but the meta in Europe is quickly shifting and turning as teams adapt their styles to counter opponents. Their recent run in the second TaKeOver 2 qualifier saw them break out well-executed variations to secure a place in the $50,000 LAN with only a single map dropped.
TaKeOver 2 is the missing piece of the puzzle needed to tie Europe into the wider picture of Overwatch. Movistar Riders, ex-Cyclone, Misfits, and more will face Rogue and further as yet unannounced teams on LAN. Hopefully there are additional North American teams in the mix to give us an idea of how each region stacks up against each other.
-------------------------------------
A special mention this month to ex-Cyclone, who are almost tied with Movistar Riders for the top team in Europe. Realistically, there is very little way to tell whether Selfless deserve their position at ninth over the top European teams or even Kongdoo Uncia, and ex-Cyclone have missed out as a result of our conservative decision.
Another edition in the series will be posted after TaKeOver 2 and the group stage of APEX, giving us a better view of how the Koreans have shifted and the Europeans are doing.
During this period the new results were from:
APEX Season 3
Overwatch Monthly Melee March
Overwatch Monthly Melee April
Overwatch PIT Championship NA & EU
TaKeOver 2 Qualifiers
HND Invitational
GAME Stadium
Rivalcade Rumble
Special thanks to urns for creating our series banner!