The Sydney Drop Bears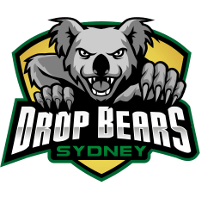 Sydney Drop Bears Inactive JKap Jacques Lutter off tank Fundrae Andres Duran tank Akraken Dario Falcao-Rassokha support have been acquired by the LG Dire Wolves. Additionally, the organization has announced a new roster for the second season of Contenders 2020 Australia.
Thank you to all of our players, coaches, staff and most importantly... our fans for the many years and seasons in contenders. Today marks the end of a chapter in AUS Contenders. Although it is the last time we #FearTheBear 🐨 we hope you join the #WolfPack 🐺 pic.twitter.com/UsMDa3bazm

— Sydney Drop Bears (@Dropbearsgg) July 15, 2020
The recent acquisition comes at the same time that the Dire Wolves announced that they have reached a deal to bring the N8 Esports brand under its organization in an effort to "further solidify its position as the ultimate Oceanic esports organisation". The Dire Wolves have been a prominent force in the Oceanic League of Legends scene, having won every OPL split in 2017 and 2018, and most recently taking 2nd in the first split of OPL 2020.
These changes come only a few days after the organization revealed new team management as a part of the brand's efforts to become a top Oceanic esports organization.
The full announcement can be found here on the Dire Wolves website.
For the team's new Overwatch roster, they will have faces returning from the previous Sydney Drop Bears roster, as well as some new faces to the team. Among the returning members are main tank Fundrae, off tank JKap, and Fluro, who has taken on the role of the team's head coach. He previously played with the Drop Bears in Contenders 2020 Season 1 as the team's main support all throughout the squad's playoff run, which ended in them losing to Mindfreak in the lower bracket finals.
Replacing Fluro at main support is Don, who had a stint with Paradigm Shift in the most recent Contenders season playoffs, but did not advance further in the lower bracket following a defeat at the hands of Mindfreak. He also played for a short time with NoWeaver, but the roster folded after week 2 of Contenders competition. He will be reuniting with flex support Lab, whose last appearance in Contenders competition was on the aforementioned NoWeaver roster.
The final newcomer is flex DPS Elva, who will be joining the roster after spending the last few months with Odyssey between the Contenders and Contenders trials scene of North America. The last time he made an appearance in Contenders competition was in week 4 of Contenders 2020 season 1 with Odyssey, but fell to Third Impact in the quarterfinals.
At the time of writing, the team has not announced a hitscan DPS player.
Currently, the roster of the Dire Wolves is: