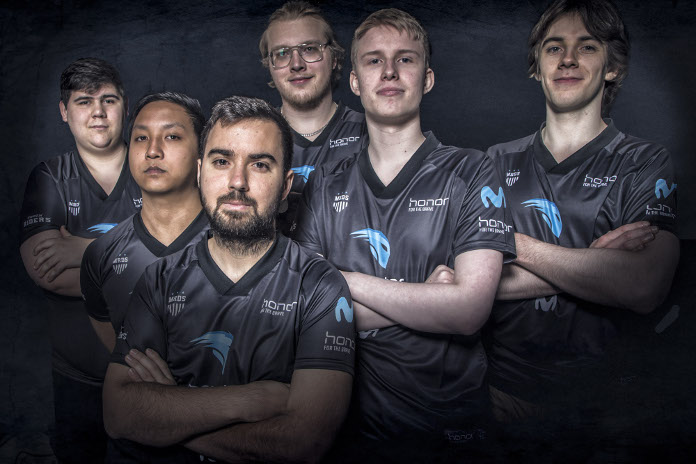 Logix, Kolsti, neptuNo, CWoosH, Finnsi, Dante via Movistar Riders
Johan "CWoosH" Klingestedt had no business living for another second. For all intents and purposes, his Genji—slick as it might be—should have died to uNFixed's Zarya, but instead CWoosH turned the fight to find a kill—and then another on Sharyk's Winston with a swift dash reset. vallutaja's Tracer finally managed to finish him off, but the damage was done and his effort came too late. In one fell swoop, Movistar Riders finished off the lonely vallutaja and took home the Overwatch PIT title, cementing themselves as an elite European team.
The success of Movistar Riders was in no way preordained. The team's past was rooted in mediocrity, as Logix, Finnsi, and CWoosH came from a mousesports roster that fell to the likes of LDLC during DreamHack Winter—not an elite team by any means. With the addition of then-DPS Dante, the teamless roster forced a talented DPS prospect to pick up a new role that could still highlight his mechanical skill. Dante's presence on Ana and Zenyatta would seem strange, but his precision would become one of the keys that enabled the team's aggressive style.
Kolsti and neptuNo were later additions to the team, but just as important as the previous members. Kolsti in particular was highlighted quite often during the Overwatch PIT Championship itself because of how well-oiled Movistar Riders' dive composition was. The teamwork between Winston and Genji is consistently tested whenever playing such a composition, but Kolsti's coordination with CWoosH was especially evident whenever the pair struck an enemy backline. neptuNo's decision to join was what truly created the roster—his Spanish ties brought the talented but unproven roster a sponsor to work under, and one that was willing to support the team at any point possible.
While Movistar Riders is by no means a flagship brand in esports, the sponsor has done an incredible amount to further the team. This six-man roster is one of the first in Overwatch to have a dedicated team house with private rooms and a specified practice area. According to CWoosH, the move has only brought immense benefits to the lineup: "Our only fear in the beginning was that it would be like with every other team house—you get good for a few months and then decline. This is different though." As time progressed, Movistar Riders came to the realization that the team had something special going on.
While the move to Madrid is a big one for the players, CWoosH understands that it's a necessary step for the future. "Playing from home is just not going to cut it at the top level. People might not listen to you over teamspeak when you're trying to get across something important. In real life, you'll know if they are paying attention or not."
A team house is not the only investment the organization pursued; Movistar Riders picked up a qualified coach in sens who focused on teamwork and worked with analyst daemoN throughout the entirety of the Overwatch PIT Championship. While the pair is not well-known outside of Europe, all players who have interacted with them only return with positive experiences to share.
Movistar Riders' blast through the Overwatch PIT Championship was easily one of the most unexpected surprises to come from the tournament. Europe is traditionally known as a stacked region, and with the return of Misfits and the improvement of Dignitas, eUnited, Ninjas in Pyjamas, and ex-Cyclone, many considered them only to fall towards the lower end of the top-five. Yet, despite constantly being overlooked, Movistar Riders dropped only a single set throughout their entire tournament run, falling to their practice partners of Misfits during the group stage.
The team coasted to 2-0 and 3-0 victories against Ninjas in Pyjamas and eUnited respectively—two teams that many considered contenders for the finals themselves. Their success came on the back of the dive composition seen so often in Rogue's matches. While brought out in professional play first by the Frenchmen in America, the composition was truly pushed to its limit by the Europeans they left behind. Of course, it helps that Kolsti is particularly renowned for his Winston play, and many call Logix a competitor for best Tracer in Europe.
Despite eUnited's immense confidence entering the tournament, the finals saw both teams' dive compositions tested against one another. The Riders never backed down, though—they forced eUnited to attempt more safe play on the final map of their final set, securing a victory through sheer grit. Despite having only a single minute to work with, Movistar Riders pushed through nearly the entirety of King's Row in overtime to secure their first tournament victory. More importantly, the team proved that they belong in the upper echelons of Europe, and currently rule as kings until they are forced to prove themselves at the next European event.
While the "Riders" might not be a big name right now, CWoosH and the boys believe that team spirit is necessary. Tensions might rise, tempers might flare, but one thing does not change—Movistar Riders are a unified team. Friendship is temporary, but success is forever; as CWoosH notes, "You don't need to be friends with your teammates, but being on the same page as them inside and outside of the game is the key to success." And it's hard to argue with a trophy.