The Bazooka Puppiez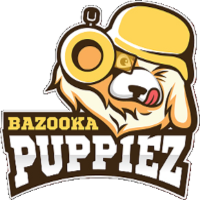 Bazooka Puppiez Inactive Mete Metehan Aksüt off tank cRNKz Joshua Santana dps kraandop Timber Rensen tank sab support have announced their players are free to look for other offers after starting the Contenders season 0-3. Since the announcement, several players have left the team.
A statement from our manager. https://t.co/gsRmEJEIrY

— Bazooka Puppiez (@BazookaPuppiez) July 17, 2018
In a statement made by the team's owner, LuckyMojo, it was stated the team would remain together and play its final two games of Contenders Season 2, although each player would be free to pursue offers to join other teams.
After finishing in the top four of Contenders Trials to qualify for Contenders, the Bazooka Puppiez failed to carry the momentum through the tournament. While it isn't mathematically impossible for the Bazooka Puppiez to qualify for the playoffs after their 0-3 start, the likelihood of them doing so is not in there favorite.
The first player to leave the team was ksp, who will be joining Group A competitor Young and Beautiful. YaB is currently fourth in their group and will need a strong finish their last two games to qualify for playoffs through a tightly contested group.
He was soon followed by MirroR, who left for One.PoinT, and Mete, who became a free agent. One.PoinT is currently fourth in Group B and will hope to qualify for playoffs with the help of MirroR.
The departures leave just five players on the team's current rosters. The team has yet to announce replacements.
The Puppiez play their next match against ksp's new team, Young and Beautiful, July 24.